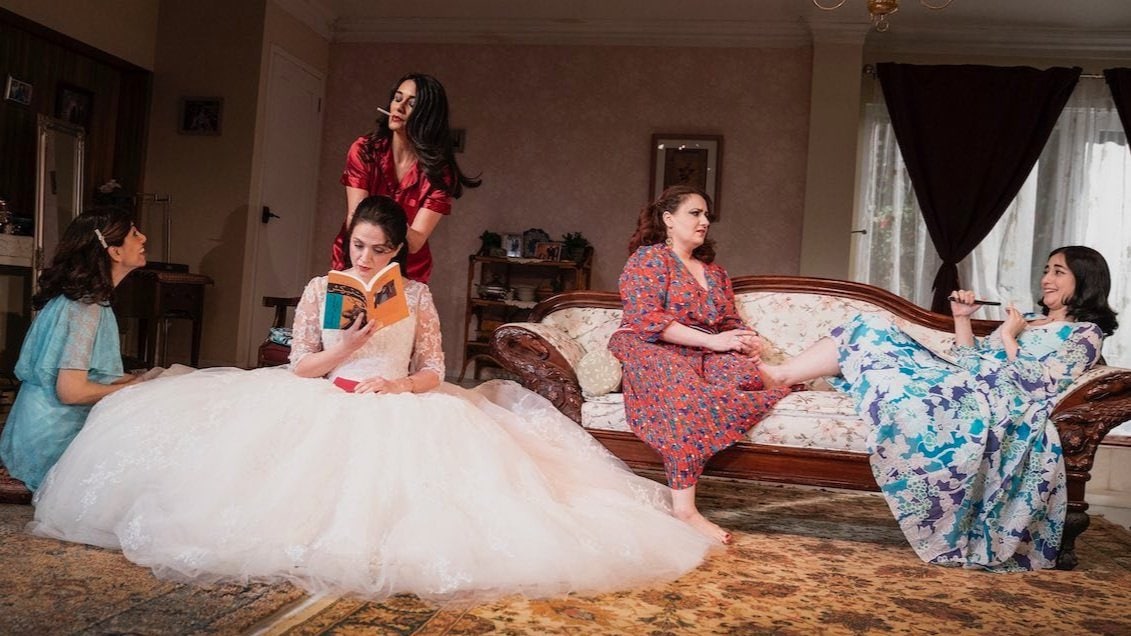 From the tragically cloistered daughters of a stern matriarch to the hilariously overworked staffers who run the White House, the women in these shows cover the breadth of human experience. Explore this wide-ranging selection of Concord Theatricals plays and musicals featuring all-female casts.
…
MUSICALS
27 Rue de Fleurus by Ted Sod & Lisa Koch (US)
(Full-Length Musical, Dramatic Comedy / 5f)
In this contemporary chamber musical derived from the imagination of Alice B. Toklas, Alice sets the record straight about being Gertrude Stein's wife and partner for nearly 40 years. As the musical progresses, the celebrated partners confront one another about love, marriage, jealousy and genius – as Pablo Picasso, F. Scott Fitzgerald, Mabel Dodge, Sylvia Beach and even Jean Harlow drop by for a visit.
A Taste of Things to Come by Debra Barsha and Hollye Levin (US/UK)
(Full-Length Musical, Dramatic Comedy / 4f)
A laugh-out-loud, fabulously fun romp exploring women's history and celebrating the friendships of four very different women. In 1957, four friends enter a Betty Crocker Cooking Contest in hopes of changing their lives. When they meet up again in 1967, they get more than what they bargained for… just a little taste of things to come.
Bernarda Alba by Michael John LaChiusa (US/UK)
(Full-Length Musical, Drama / 10f)
After burying her second husband, a domineering matriarch imposes a strict rule on her five daughters: "Not a breath of outside air is going to enter this house. It's going to feel like we've bricked up the doors and windows," she proclaims. But before long, the outside world begins to permeate their isolated existence. This powerful musical is adapted from Federico García Lorca's play The House of Bernarda Alba, available in translations by Michael Dewell & Carmen Zapata (US/UK) or James Graham Lujan & Richard O'Connell (US/UK).
First Daughter Suite by Michael John LaChiusa (US/UK)
(Full-Length Musical, Dramatic Comedy / 7f)
A historical fantasia in four parts, First Daughter Suite follows Patricia Nixon and daughters Tricia and Julie, Rosalynn and Amy Carter, Betty and Susan Ford, Patti Davis and mom Nancy Reagan, and Barbara Bush and daughter-in-law Laura as they strive to live meaningful lives in the public eye.
I Can't Keep Running in Place by Barbara Schottenfeld (US)
(Full-Length Musical / 7f)
In this compassionate, touching, extremely funny musical, a psychologist helps six women express their needs through a dynamic role-playing workshop. The seven women learn to express their needs in a theatrically exciting way, propelling the ensemble, their newly separated leader, and the audience to a compelling climax.
Jerry's Girls by Jerry Herman, Larry Alford and Wayne Cilento (US/UK)
(Full-Length Musical / 3f +Ensemble)
In the dynamic musical revue, three women celebrate the music of Jerry Herman, highlighting the broad spectrum of thrilling material he wrote specifically for women. The show includes songs from such immortal musicals as Mame, Hello Dolly!, Milk and Honey, Mack and Mabel, A Day in Hollywood/A Night in the Ukraine and La Cage Aux Folles.
Nunsense by Dan Goggin (US/UK)
(Full-Length Musical, Comedy / 5f)
A zany, wholesome, hilarious musical revue presented by the Little Sisters of Hoboken, Nunsense is a heavenly delight! The show is a fundraiser the Little Sisters are presenting to raise enough money to bury fellow sisters accidentally poisoned by the convent cook, Sister Julia (Child of God). This madcap musical is also available in a large-cast version, Nunsense: The Mega-Musical Version (US/UK).
Nunset Boulevard by Dan Goggin (US/UK)
(Full-Length Musical, Comedy / 5f, 1 any gender)
The Little Sisters go Hollywood! All the nuns you love have traveled west to make it big in show biz, but their concert "at the Hollywood Bowl" turns out to be a gig at the Hollywood Bowl-A-Rama.
Ruthless! by Joel Paley & Marvin Laird (US/UK)
(Full-Length Musical, Comedy / 7f, with flexible gender casting)
Eight-year-old Tina Denmark knows she was born to play Pippi Longstocking, and she will do anything to win the part in her school musical. "Anything" includes murdering the leading lady! This aggressively outrageous musical hit garnered rave reviews during its long off-Broadway run. Variety called the show "A wonderfully smart and funny send-up of every Broadway brat from Gypsy to The Bad Seed… loaded with campy wit and charm."
SIX: TEEN EDITION by Toby Marlow and Lucy Moss (US/UK)
(Full-Length Musical, Dramatic Comedy / 6f +Ensemble)
A full-length adaptation of Toby Marlow and Lucy Moss' international phenomenon SIX, modified for performance by teen actors for family audiences. Divorced, beheaded, died, divorced, beheaded, survived. From Tudor Queens to Pop Princesses, the SIX wives of Henry VIII take the mic to remix five hundred years of historical heartbreak into an exuberant celebration of 21st-century girl power! This new original musical is the global sensation that everyone is losing their head over.
Swingtime Canteen by Charles Busch, Linda Thorsen Bond and William Repicci (US)
(Full-Length Musical, Comedy / 5f)
In this nostalgic and hilarious songfest set in London, 1944, Marian Ames and her all-girl band sing a bundle of swinging wartime hits to entertain the fighting boys of WWII. Songs include "I'll Be Seeing You," "Sing Sing Sing," "How High the Moon," "Ac-Cent-Tchu-Ate the Positive," "Sentimental Journey," a fast paced, 12-song Andrews Sisters medley, and many more.
Unexpected Joy by Bill Russell and Janet Hood (US/UK)
(Full-Length Musical, Dramatic Comedy / 4f)
Unexpected Joy is the story of three generations of female singers, long-held family tensions, and a week together where change is in the air. In modern-day Cape Cod, Joy, a baby boomer and proud hippie, is holding a memorial concert for the other half of her popular musical duo, Jump & Joy. When her tightly wound, conservative daughter and her sweet, rebellious granddaughter arrive from Oklahoma, sparks fly.
Vanities: The Musical by Jack Heifner and David Kirshenbaum (US/UK)
(Full-Length Musical, Dramatic Comedy / 3f)
Based on the hit play Vanities (US) this dynamic musical chronicles the life-affirming journey of three vivacious Texas teens from cheerleaders to sorority sisters to housewives to liberated women and beyond. The show captures a snapshot-sharp portrait of the lives, loves, disappointments, and dreams of these young women as they grow up during the turbulent 60s and 70s and reconnect in the late 1980s.
PLAYS
5 Lesbians Eating a Quiche by Evan Linder and Andrew Hobgood (US/UK)
(Full-Length Play, Comedy / 5f)
It's 1956 and The Susan B. Anthony Society for the Sisters of Gertrude Stein are having their annual quiche breakfast. As the assembled "widows" await the announcement of the society's prize-winning quiche, the atomic bomb sirens sound! Has the Communist threat come to pass? 5 Lesbians Eating A Quiche is a tasty recipe of hysterical laughs, sexual innuendoes, unsuccessful repressions, and delicious discoveries.
53% Of by Steph Del Rosso (US/UK)
(Full-Length Play, Dark Comedy / 6f)
This biting satire explores the beliefs of white women on each side of the American political spectrum, exposing both those whose activism empowered the politics of the far right conservative party, and those whose performative liberal allyship has problematic limits.
Agnes of God by John Pielmeier (US/UK)
(Full-Length Play, Drama / 3f)
In this taut, compelling three-character drama, Dr. Martha Livingstone, a court-appointed psychiatrist, is summoned to a convent to assess the sanity of a novice accused of murdering her newborn. Miriam Ruth, the Mother Superior, determinedly keeps young Agnes from the doctor, further arousing Livingstone's suspicions. Who killed the infant, and who fathered the tiny victim? Livingstone's questions force all three women to re-examine the meaning of faith and the power of love, leading to a dramatic climax.
Alabaster by Audrey Cefaly (US/UK)
(Full-Length Play, Drama / 4f)
This all-female, darkly comic southern drama explores the meaning and purpose of art. June, an artist, lost her family in an Alabama tornado and emerged physically and emotionally scarred. Alice, a photographer, comes to take pictures of June, and what the two women need from each other transcends the physical. Alabaster asks: What does it mean to be truly "seen?"
Cadillac Crew by Tori Sampson (US/UK)
(Full-Length Play, Drama / 4f)
On the day of a much-anticipated speech by Rosa Parks during the height of the Civil Rights Movement, four activists working in a Virginia civil rights office wonder whether the proclamation of equality amongst mankind includes women. With remarkable insight and unexpected humor, Cadillac Crew reclaims the stories of the forgotten leaders who blazed the trail for desegregation and women's rights and asks: When will the world be ready to embrace women in all their capacity?
Collective Rage: A Play in Five Betties by Jen Silverman (US/UK)
(Full-Length Play, Dark Comedy / 5f)
Jen Silverman's hilarious play, which The New York Times called "a fult-tilt lesbian/bi-curious/genderqueer/Shakespearean comedy for everyone," explores anger, sex, love and the "thea-tah" through the the experiences of five women named Betty.
cullud wattah by Erika Dickerson-Despenza (US/UK)
(Full-Length Play, Drama / 5f)
Part meditation/call to action, part domestic drama, cullud wattah explores the effects of the Flint water crisis on a multigenerational family of Black women. Blending form and bending time, cullud wattah dives deep into the poisonous choices of the outside world, the contamination within, and how we make the best choices for our families' future when there are no real, present options.
Decision Height by Meredith Dayna Levy (US/UK)
(Full-Length Play, Drama / 9f)
A powerful story about friendship and the essential role of women in wartime. Virginia Hascall has left her home and fiancé to become a Women Airforce Service Pilot, doing her part to help defeat the Axis powers in WWII. Through triumph and tragedy, Virginia and her sisters in flight suits learn as much about themselves as they do about airplanes. With a cast of nine vibrant female characters, Decision Height offers a compelling look into an under-recognized subset of American heroes.
Dream Hou$e by Eliana Pipes (US/UK)
(Full-Length Play, Dramatic Comedy / 3f, 2 any gender)
Two Latina sisters prepare to sell their home on a reality TV show, hoping to capitalize on neighborhood gentrification. But once the cameras are rolling, the family's turbulent past and uncertain future begin to collide, and the sisters are forced to reckon with the secrets held between the house's walls.
for colored girls who have considered suicide / when the rainbow is enuf by Ntozake Shange (US/UK)
(Full-Length Play, Drama / 7f)
Capturing the brutal, tender and dramatic lives of contemporary Black women, For Colored Girls… offers a transformative, riveting evening of provocative dance, music and poetry. This groundbreaking "choreopoem" is a spellbinding collection of vivid prose and free verse narratives about and performed by Black women.
How Black Mothers Say I Love You by Trey Anthony (US/UK)
(Full-Length Play, Dramatic Comedy / 4f)
A powerful and touching tale of immigration, family and sacrifice. Hard-working Daphne left her two young daughters in Jamaica for six years to create a better life for them in America. Now, 30 years later, proud and private, Daphne is relying on church and her nearby dutiful daughter to face a health crisis. But the arrival of feisty activist Claudette stirs up family ghosts and the burning desire for unconditional love.
Hurricane Diane by Madeleine George (US/UK)
(Full-Length Play, Comedy / 5f)
Meet Diane, a permaculture gardener dripping with butch charm. She's got supernatural abilities owing to her true identity—the Greek god Dionysus—and she's returned to a suburban New Jersey cul-de-sac to gather mortal followers and restore the Earth to its natural state. Pulitzer Prize finalist Madeleine George pens a hilarious evisceration of the blind eye we all turn to climate change and the bacchanalian catharsis that awaits us, even in our own backyards.
In Juliet's Garden by Judith Elliot McDonald (US)
(Full-Length Play, Comedy / 7f)
Juliet Capulet invites four other heroines of Shakespeare's classics (Katharina, Portia, Ophelia and Desdemona) to lunch in her favorite garden in Verona to discuss 'issues' they all have with their plots. This lively fifty-minute one-act comedy sparkles with wit and an in-depth understanding of the characters of these indelible ladies, and their effects on audiences over the centuries.
La Ruta by Isaac Gómez (US/UK)
(Full-Length Play, Drama / 6f)
Inspired by real testimonies, and using live music to evoke factory work and protest marches, La Ruta is a visceral unearthing of secrets buried in the desert and a celebration of the Mexican women who stand resiliently in the wake of loss.
Mala Hierba by Tanya Saracho (US/UK)
(Full-Length Play, Drama / 4f)
Liliana has a sparkle few can deny and no one can resist. The trophy wife of a border magnate living in Texas, she's seemingly impeccable. But beneath that polished exterior lies a fierce determination to survive at any cost. When Liliana's true desires break the surface, she'll have to decide between the value of obligation versus the price of freedom.
Mary Jane by Amy Herzog (US/UK)
(Full-Length Play, Drama / 5f)
As Mary Jane navigates both the mundane and the unfathomable realities of caring for Alex, her chronically ill young son, she finds herself building a community of women from many walks of life. Mary Jane is Pulitzer Prize finalist Amy Herzog's remarkably powerful and compassionate portrait of a contemporary American woman striving for grace.
POTUS by Selina Fillinger (US/UK)
(Full-Length Play, Comedy / 7f)
An uproarious Broadway debut by playwright Selina Fillinger, POTUS Or, Behind Every Great Dumbass are Seven Women Trying to Keep Him Alive is a riotous comedy about the women in charge of the man in charge of the free world. When the President unwittingly spins a PR nightmare into a global crisis, the seven brilliant and beleaguered women he relies upon must risk life, liberty and the pursuit of sanity to keep the commander-in-chief out of trouble.
Project Dawn by Karen Hartman (US/UK)
(Full-Length Play, Drama / 7f)
Philadelphia is home to a revolutionary – and shockingly funny – treatment court for prostitute women. In Project Dawn, seven actresses double as staff members and court participants, probing the thin lines between freedom and slavery, activism and obsession – on both sides of the law.
Single Black Female by Lisa B. Thompson (US/UK)
(Full-Length Play, Dramatic Comedy / 2f)
This two-woman show features rapid-fire comic vignettes exploring the lives of thirty-something African American middle-class women in urban America. SBF 1, an English literature professor, and SBF 2, a corporate lawyer, keep each other balanced as they search for love, clothes and dignity in a world that fails to recognize them amongst a parade of stereotypical images.
The Anastasia Trials in the Court of Women by Carolyn Gage (US)
(Full-Length Play, Drama / 9f)
In this engrossing, provocative courtroom drama, the audience serves as judge and jury in a case against the five women who betrayed the Grand Duchess Anastasia Romanov, the last surviving daughter of the Tsar of Russia. It's a farcical but profoundly engaging excursion into the hidden world of ethics for women who are both survivors and perpetrators of abuse toward women. The play is shaped by the audience decisions to overrule or sustain the attorneys' motions, and every night's audience sees a different play.
The Glorious World of Crowns, Kinks and Curls by Keli Goff (US/UK)
(Full-Length Play, Drama / 3f)
In the tradition of The Vagina Monologues and For Colored Girls…, The Glorious World of Crowns, Kinks and Curls is a collection of monologues and scenes featuring voices of Black women from around the globe recalling unforgettable moments in their lives in which their hair – and their complicated relationships with their hair – took center stage.
The Mamalogues by Lisa B. Thompson (US/UK)
(Full-Length Play, Comedy / 3f)
From the award-winning writer of Single Black Female comes this new comedy about the exhilaration and exhaustion that come from being a Black single mother in America. During a single mother's retreat, three women share their angst about racial profiling on the playground, their child being the "only one" at their school, and the politics of soccer in the hood.
The Revlon Girl by Neil Anthony Docking (US/UK)
(Full-Length Play, Drama / 5f)
Eight months after the Aberfan Disaster of 1966, in which 144 people were killed (116 of them children), a group of bereaved mothers meet weekly above a local hotel to talk, cry and even laugh without feeling guilty. Afraid that people will think them frivolous, they've secretly arranged for a representative from Revlon to come and give them a talk on beauty tips.
The Star Quilter by William S. Yellow Robe, Jr. (US/UK)
(Full-Length Play, Drama/ 2f)
When Luanne asks Mona, a member of the Assiniboine tribe, to make a star quilt for a senator, Mona agrees. But the gift's meaning is lost on its buyer. The Star Quilter explores the effect of consumerism on indigenous populations, asking whether integrity is more valuable than money.
The Wolves by Sarah DeLappe (US/UK)
(Full-Length Play, Dramatic Comedy / 10f)
Left quad. Right quad. Lunge. A girls indoor soccer team warms up. From the safety of their suburban stretch circle, the team navigates big questions and wages tiny battles with all the vim and vigor of a pack of adolescent warriors. A portrait of life, liberty, and the pursuit of happiness for nine American girls who just want to score some goals.
Tomorrow Game by Brandy N. Carie (US/UK)
(Full-Length Play, Drama / 2f)
This post-apocalyptic drama about two of the last people on Earth explores the power of human connection. But in this world, friendship can prove more dangerous than isolation.
Top Girls by Caryl Churchill (US/UK)
(Full-Length Play, Dramatic Comedy / 7f)
Caryl Churchill's hilarious, groundbreaking, gritty play about the fictional "Top Girls" employment agency begins with a time-warped luncheon attended by women in legend or history offering their perspectives on maternity and ambition.
Voyage to Lesbos by Maureen Angelos, Lisa Kron, Babs Davy, Dominique Dibbell & Peg Healey (US)
(Full-Length Play, Dark Comedy / 5f)
The maiden effort from legendary theater troupe the Five Lesbian Brothers, Voyage to Lesbos takes a darkly humorous look at the warping effects of internalized homophobia and phallo-centrism on the lesbian psyche. Check out another hilarious all-female show from the Five Lesbian Brothers: Brave Smiles… Another Lesbian Tragedy (US/UK)
Wish You Were Here by Sanaz Toossi (US/UK)
(Full-Length Play, Dramatic Comedy / 5f)
Set in Iran from 1978 to 1991, this breathtaking and unabashed comedy-drama explores the evolving relationships among a group of five women during the escalation, height and aftermath of the Iranian Revolution.
…
For a complete list of Concord Theatricals plays featuring all-female casts, visit Concord Theatricals in the US or UK.
Header Image: Image: 2022 Playwrights Horizons Production of Wish You Were Here (Joan Marcus)