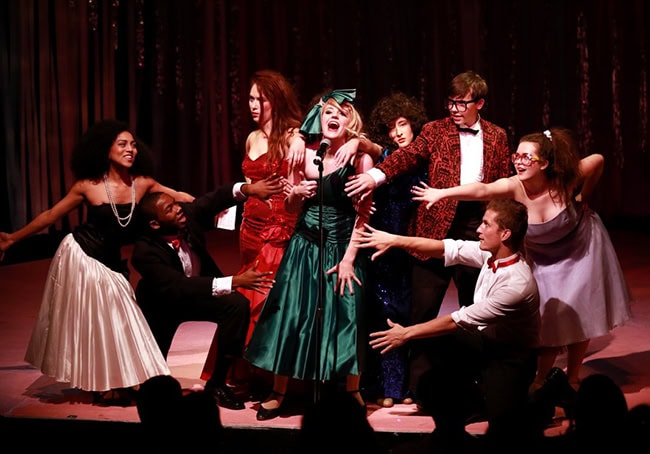 The Roxy Regional Theatre, located in the heart of Historic Downtown Clarksville, Tennessee presented The Awesome 80s Prom in June and July of 2016 as part of our 33rd Season. We knew that we were interested in putting on a show with this type of structure, but we also knew that it would be something completely different for our patrons.
With The Awesome 80s Prom being such an immersive piece of theatre, this was to be our first audience participation and audience-driven show. Up until this point, our audiences were used to picking up their tickets, finding their seats in the theater, and then staying there for a two-hour performance. With The Awesome 80s Prom, we knew we had to select the perfect music from the decade and craft a show to keep our audiences involved and willing to participate.
Our production actually started on the street outside of our lobby, with the characters being introduced as they arrived to the prom. Brief vignettes were created and improvised nightly, featuring everything from the head cheerleader and the quarterback of the football team being dropped off in a car out front, to Beef throwing up in the trash can, to a cheer from the other cheerleaders, to a couple of tumbles from the "nerds" of the show. We then invited members of the audience to come into the lobby in groups and get audience participation bags, purchase beverages, and take advantage of our 80s Prom photo booth. As all members of the audience made their way into the auditorium, we began the official script of the show.
Finding ways to make this production as interactive as possible was a challenge that our production team started working on very early. We have had great success with providing audience participation bags for our annual production of The Rocky Horror Show and wanted to try something similar for The Awesome 80s Prom. With some simple online research we were able to find some 80s accessories, create an 80s mix CD, and find some 80s-themed candy with which to fill audience participation bags. This also provided our audience members the opportunity to "jam out" with all of the songs after seeing the show.
There are definitely some challenges, more for the actors involved, in doing a production like this. What happens if no one wants to participate? What happens if no one wants to get up and dance? What happens if no one votes? Well, all of these things did happen on different nights of the run. But finding a strong cast, one that is willing to make strong character choices and that has strong improvisational skills, is key.
While rehearsals are always of paramount importance, with this type of show you can only rehearse so much before audience feedback and participation are needed. Our cast of characters included both professionals and non-professionals, with members of our high school intern program filling in some of the gaps. This allowed us to have a median cast age closer to that of actual high school students. The cast worked on the music and the dialogue for about two weeks prior to opening. We found ways to be able to pull other characters into solo songs to continue their story lines and also ways to incorporate group numbers with ensemble dancing. This allowed for some larger production numbers, but also helped with making our audience members a little more comfortable to join us on stage. Toward the end of the rehearsal process, we did find that a couple of dry runs with invited guests (sponsors, interns, etc.) helped the cast and crew get an idea of how the show would run with a "real" audience.
One of the things that most attracted us to The Awesome 80s Prom, but also created a challenge, was coming up with the playlist and songs used in the production. The script is helpful in providing some songs that need to be used to continue the plot, but we took the opportunity to choose additional songs to highlight the strengths of our performers and make the piece a little bit more of a musical. Again, with a little research, we were able to choose from the 1980s top 100 list of songs, make sure any dues and royalties were paid in order for us to use the songs, and weave them into the show to create well-balanced and defined characters.
Another advantage to doing The Awesome 80s Prom is the flexibility with the set. You have the choice to make it as lavish or as simple as you would like. In all actuality, based on the set-up of your theater, you only really need a podium, some chairs, and a microphone or two to pull the show off. Now, with that said, you can decide where to set your 80s prom to give it more of a unique and individualized look, or you can go for a more classic and simple prom theme. Life at the prom was much more simple in the 80s.
This type of show gave our audiences the opportunity to let their hair down a little bit, dress up, and get involved in making the show special and different each night. Due to the title alone, we had a lot of first-time theatergoers, groups of girls, bachelorette parties, and our regular patrons in attendance. If you are looking for a way to shake up your season and give your patrons a way to be immersed in the total production, this is the show for you!
---
To purchase a copy of The Awesome 80s Prom click here, and to learn more about licensing a production, click here.