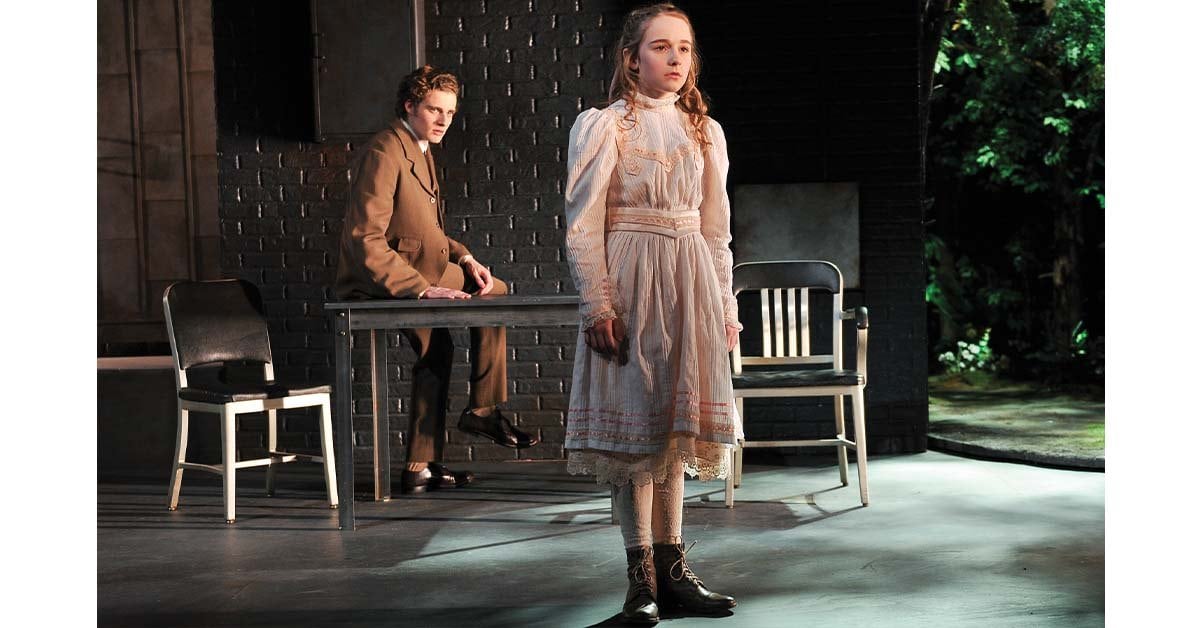 Hold onto your seats – these plays will keep you guessing til the very end!
We've put together a collection of tension-filled plays that turn on a central suspenseful question. Whether it's spooky season or any other time of year, these handpicked titles are sure to infuse a healthy dose of fear into your theatrical feast. Check out our suggestions below.
…
Accomplice by Rupert Holmes (US)
(Full-Length Play, Drama / 2f, 2m, 1 any gender)
This theatrical roller coaster will trigger screams of laughter even as audiences vow to keep its secrets hush-hush. The story begins in Dartmoor, England at the stylish weekend retreat of the affluent Derek and Janet Taylor, and both adultery and murder are in the air. But audiences will soon learn that all is never as it seems in this electrifying game of trickery and misdirection. Who is the hunter and who the hunted…and precisely who is the title character of Accomplice?
afterlife: a ghost story by Steve Yockey (US/UK)
(Full-Length Play, Drama / 3f, 3m)
A ghost story in the most literal sense, afterlife follows married couple Connor and Danielle as they prepare their beachfront home for an impending storm. But when the storm rolls in faster than expected, it may be too late for the them to escape the haunting world of unsent letters, unexpected snow, unfinished sand castles, unrelenting birds, and unforgettable loss that threatens to swallow the pair forever.
And Then There Were None by Agatha Christie (US/UK)
(Full-Length Play, Drama / 3f, 8m)
Ten strangers are summoned to a remote island. All that the guests have in common is a wicked past they're unwilling to reveal and a secret that will seal their fate, for each has been marked for murder. As the weather turns and the group is cut off from the mainland, the bloodbath begins; one by one they are brutally murdered in accordance with the lines of a sinister nursery rhyme.
Angel Street (Gaslight) by Patrick Hamilton (US/UK)
(Full-Length Play, Drama / 3f, 2m, 2 any gender)
This is the play that defined the term "gaslight." Angel Street tells the story of the Manninghams, who live on Angel Street in 19th-century London. As the curtain rises, all appears to be the essence of Victorian tranquility. It is soon apparent, however, that Mr. Manningham, a suavely handsome man, is slowly driving his gentle, devoted wife, Bella, to the brink of insanity with an insinuating kindness that masks more sinister motives.
Child's Play by Robert Marasco (US/UK)
(Full-Length Play, Drama / 6m, 9 boys)
Something is amiss in a Catholic boys' boarding school. The students have become sinister, furtive and conspiratorial as they steal up and down staircases after hours. The menace erupts in savagery as the students torture one of their members, then another, and then another. What is the disease that has settled in their souls? Who is torturing the crotchety classics professor by sending obscene photographs to his dying mother? And why?
Deathtrap by Ira Levin (UK)
(Full-Length Play, Dramatic Comedy / 2f, 3m)
Unknown dramatist Clifford Anderson has sent his new thriller to award-winning Broadway author Sidney for comment. Without a success to his credit for some years, Sidney plots with his reluctant wife Myra about how best to plagiarize Clifford's new play Deathtrap, and when the young writer turns up to discuss the play with the seasoned dramatist, events take a sinister turn.
Dial 'M' for Murder by Frederick Knott (US/UK)
(Full-Length Play, Melodrama / 1f, 5m)
Tony Wendice has married his wife, Margot, for her money and now plans to murder her for the same reason. He arranges the perfect murder. He blackmails a scoundrel he used to know into strangling her for a fee of one thousand pounds, and arranges a brilliant alibi for himself. Unfortunately, the murderer gets murdered and the victim survives. But this doesn't baffle the husband: He sees his hireling's death as an opportunity to have his wife convicted for the murder of the man who tried to murder her.
Dracula: A Comedy of Terrors by Gordon Greenberg and Steve Rosen (US/UK)
(Full-Length Play, Comedy / 2f, 3m)
Nobody's ever seen a Dracula this funny. Five actors play dozens of zany characters in a madcap take on the classic tale that's guaranteed to induce blood-curdling screams—of laughter! Famed female vampire hunter Jean Van Helsing and her motley company chase Count Dracula from the English countryside to Transylvania to "other frightening places," including the Capital Region.
Edgewise by Eliza Clark (US/UK)
(Full-Length Play, Dark Comedy / 1f, 4m)
In Eliza Clark's suspenseful drama, it's just another morning at the suburban burger joint where Ruckus, Marco and Emma smoke up, talk smack, and – oh yeah – work. However, when a bloodied stranger staggers in, the three teens are forced to choose sides in the grueling war advancing just outside the door.
Feeding Beatrice by Kirsten Greenidge (US/UK)
(Full-Length Play, Dramatic Comedy / 2f, 2m)
It starts with the sound of a spoon scraping against glass and the wet noise of lips smacking together. June and Lurie have a haunting new houseguest – and she's ravenously hungry. They do their best to keep her fed and happy, but Beatrice always demands more. As she burrows deeper and deeper into their lives, the couple faces a horrific question: What will it cost to exorcise Beatrice forever?
Ken Ludwig's Baskerville: A Sherlock Holmes Mystery (US/UK)
(Full-Length Play, Comedy / 1f, 4m)
Get your deerstalker cap on — the play's afoot! From the award-winning mastermind of mayhem, Ken Ludwig, comes a fast-paced comedy about everyone's favorite detective solving his most notorious case. Sherlock Holmes and Dr. Watson must crack the mystery of "The Hound of the Baskervilles" before a family curse dooms its newest heir.
Let the Right One In by Jack Thorne (US/UK)
(Full-Length Play, Drama /  f, 6m)
Oskar is a bullied, lonely teenage boy living with his mother on a housing estate at the edge of town when a spate of sinister killings rock the neighborhood. Eli is the young girl who has just moved in next door. She doesn't go to school and never leaves the flat by day. Sensing in each other a kindred spirit, the two become devoted friends. What Oskar doesn't know is that Eli has been a teenager for a very long time.
Murder by the Book by Duncan Greenwood and Robert King (US/UK)
(Full-Length Play / 2f, 3m)
Crisp, witty exchanges pepper this lighthearted and inventive thriller, which unfolds with a series of macabre twists. A suspense writer indulges in vitriolic word duels with his estranged wife until she shoots him. An amateur detective from the next flat attempts to solve the murder before calling the police. More deadly games are in store when the corpse rises and the tables are turned more than once for the victim and the killers.
Night Must Fall by Emlyn Williams (US/UK)
(Full-Length Play, Melodrama / 5f, 4m)
This taught psychological thriller, first presented in 1935, has terrified and thrilled Broadway and London audiences for decades. When the imperious, embittered Mrs. Bramson learns that her young maid Dora is pregnant, she summons the child's presumed father to her bungalow. The young man, Dan, is charming but mysterious. Could he be responsible for the recent murder and beheading of a local woman, and could Mrs. Bramson be his next victim?
Night Watch by Lucille Fletcher (US/UK)
(Full-Length Play, Drama / 4f, 5m)
An outstanding Broadway success, this ingeniously devised thriller builds steadily in menace and suspense until the final, breath-stopping moment of its unexpected twist ending. Unable to sleep, Elaine Wheeler paces the living room of her Manhattan townhouse, troubled by unsettling memories and vague fears. Her husband tries to comfort her, but when he steps away for a moment, Elaine screams as she sees (or believes she sees) the body of a dead man in the window across the way.
Our Dear Dead Drug Lord by Alexis Scheer (US/UK)
(Full-Length Play, Drama / 4f, 1m, 1 girl)
A gang of teenage girls gathers in an abandoned treehouse to summon the ghost of Pablo Escobar. Are they messing with the actual spirit of the infamous cartel kingpin? Or are they really just messing with each other? A roller coaster ride through the danger and damage of girlhood – the teenage wasteland – has never been so much twisted fun.
Psycho Beach Party by Charles Busch (US)
(Full-Length Play, Comedy / 6f, 5m)
Chicklet Forrest, a teenage tomboy, desperately wants to be part of the surf crowd on Malibu Beach in 1962. One thing getting in her way is her unfortunate tendency towards split personalities. Among them are a check-out girl, an elderly radio talk show hostess, a male model named Steve, and the accounting firm of Edelman and Edelman. But Chicklet's most dangerous alter ego is a sexually voracious vixen named Ann Bowman, who has nothing less than world domination on her mind.
Sleuth by Anthony Shaffer (US/UK)
(Full-Length Play / 5m)
The ultimate game of cat and mouse is played out in a cozy English country house owned by celebrated mystery writer Andrew Wyke. Invited guest Milo Tindle, a young rival who shares Wyke's love for games, declares his intention to run off with Wyke's wife. The two men devise an elaborate revenge/power game; through their style and cunning, the stakes continue to rise, leading to the play's inexorable, heart-stopping finish.
Spider's Web by Agatha Christie (US/UK)
(Full-Length Play, Dark Comedy / 3f, 9m)
With this conscious parody of the detective thriller, Christie delivers a unique blend of suspense and humor. There is tension and laughter in equal parts in an intricate plot of murder, police, drug addicts, invisible ink, hidden doorways and secret drawers.
Stage Fright, Or… 'LAUGH?' I Thought I'd DIE! (US/UK)
(Full-Length Play, Dramatic Comedy / 6f, 16m, 1 girl, 1 any gender)
For almost a century an evil has haunted the Orpheus Theatre, awaiting fulfillment of a chilling prophecy, and a blood-stained Ouija board and cryptic rhyme are the only keys to a terrifying truth. With lots of casting options, simple production requirements, and TWO possible endings (one scary, one funny), this show gives theatre companies complete control over their audience's experience.
The Bat by Mary Roberts Rinehart, Avery Hopwood (US/UK)
(Full-Length Play, Comedy / 3f, 7m)
In this popular American mystery play, incident is piled on incident with skill and plausibility, and it is impossible to know who the real criminal is until the final curtain. This thriller revolves around Cornelia Van Gorder, a maiden lady of sixty, who rents the summer home of a banker reported killed in Colorado. A large sum is missing from the dead man's bank and it is suspected that, far from being dead, h
e stole the money, hid it in a secret chamber in his house and is only waiting for a chance to sneak back to get it.
The Canterville Ghost by Tim Kelly (US/UK)
(Full-Length Play, Comedy / 14f, 6m)
An average American family acquires historic old Canterville Chase – complete with ghost! Sir Simon, the sporting spirit, succeeds in making life miserable. Then the Americans strike back. Pam and Wendy, daughters of the new owners, attack the poor ghost with cans of hairspray and deodorant! Sir Simon feels this is hardly fair, so he enlists the aid of some friends: Hester the Horrid, Lady Joan the Graveless, the Vampire Duchess, and other things that go bump in the night.
The Exorcism by Don Taylor (UK)
(Full-Length Play, Drama / 2f, 2m)
Dan and Margaret have come to spend Christmas with Rachel and Edmund in their renovated 17th-century labourer's cottage. Later, as Rachel plays the piano, she suddenly gets a sinister feeling of déjà vu. Shortly afterwards, the electricity fails and the phone is out of order too. It is the start of a series of macabre events that mount relentlessly to a bizarre and terrifying climax, culminating in a tragic report coming from the TV into an empty brightly-lit room.
The Ghost Train (Revised) by Arnold Ridley (UK)
(Full-Length Play, Drama / 4f, 5m)
A classic comedy-thriller where six passengers find themselves stranded late at night in the waiting-room of an isolated Cornish railway station. Ignoring the ghostly tales and dire warnings of the stationmaster, they decide to stay where they are until morning – with terrifying consequences. Finally, all is revealed and the details of a fiendish plot are laid bare.
The Girl on the Train by Rachel Wagstaff, Duncan Abel and Paula Hawkins (US/UK)
(Full-Length Play, Drama / 3f, 4m)
Rachel Watson longs for a different life. Her only escape is the perfect couple she watches through the train window every day, happy and in love. Or so it appears. When Rachel learns that the woman she's been secretly watching has suddenly disappeared, she finds herself as a witness and even a suspect in a thrilling mystery in which she will face bigger revelations than she could ever have anticipated.
The Headlands by Christopher Chen (US/UK)
(Full-Length Play, Drama / 3f, 4m)
Henry is an amateur sleuth and true crime aficionado who sets out to solve the ultimate case: the unsolved murder of his father. Using his memories and the family stories he was told as a child growing up in San Francisco, Henry begins an investigation through a labyrinth of secrets and deceptions that leads him to question those closest to him. The Headlands is a contemporary noir that explores the stories we tell ourselves and the fallibility of the mind.
The Nether by Jennifer Haley (US/UK)
(Full-Length Play, Drama / 1f, 3m, 1 girl)
The Nether is a virtual wonderland that provides total sensory immersion. Just log in, choose an identity and indulge your every desire. But when a young detective uncovers a disturbing brand of entertainment, she triggers an interrogation into the darkest corners of the imagination.
The Sound Inside by Adam Rapp (US/UK)
(Full-Length Play, Drama / 1f, 1m)
When Bella Baird, an isolated creative writing professor at Yale, begins to mentor a brilliant but enigmatic student named Christopher, the two form an unexpectedly intense bond. As their lives and the stories they tell about themselves become intertwined in unpredictable ways, Bella makes a surprising request of Christopher that neither knows if he can fulfill. Brimming with suspense, Rapp's riveting play explores the limits of what one person can ask of another.
The Thin Place by Lucas Hnath (US)
(Full-Length Play, Drama / 3f, 1m)
The Thin Place is the story of two women, Hilda and Linda. Linda communicates, professionally, with the dead, who are still here, just in a different part of here, in the "thin place." She can make those who believe hear them, offering them peace and closure and meaning. With acuity and relentless curiosity, Lucas Hnath's play transforms the theater into an intimate séance, crafting an unnerving testament to the power of the mind.
Veronica's Room by Ira Levin (US/UK)
(Full-Length Play, Drama / 2f, 2m)
This chilling mystery thriller by the author of Rosemary's Baby explores the thin line between fantasy and reality, madness and murder. Students Susan and Larry find themselves as guests enticed to the Brabissant mansion by its dissolute caretakers the lonely Mackeys. Struck by Susan's strong resemblance to Veronica Brabissant, long-dead daughter of the family for whom they work, the older couple gradually induce her to impersonate Veronica briefly to solace the only living Brabissant, her addled sister who believes Veronica alive.
Wait Until Dark by Frederick Knott (US/UK)
(Full-Length Play, Drama / 1f, 6m, 1girls)
A sinister con man named Roat and two ex-convicts, Mike and Carlino, are about to meet their match. They have traced the location of a mysterious doll, which they are much interested in, to the Greenwich Village apartment of a blind woman, Susy. She refuses to reveal its location, and with the help of a young neighbor, figures out she is the victim of a bizarre charade. But when Roat kills his associates, a deadly game of cat and mouse ensues between the two. Susy knows the only way to play fair is by her rules, so when darkness falls she turns off all the lights, leaving both of them to maneuver in the dark until the game ends.
Witness for the Prosecution by Agatha Christie (US/UK)
(Full-Length Play, Drama / 4f, 9m)
Leonard Vole stands accused of murdering a rich widow. The stakes are high with shocking witness testimony, impassioned outbursts from the dock and a young man's fight to escape the hangman's noose. Generally regarded as one of Christie's most accomplished plays, this suspenseful thriller keeps audiences guessing until the very end.
…
For more mysterious plays and musicals, visit Concord Theatricals in the US or UK.
Header Image: 2015 MCC Theater production of The Nether (Jenny Anderson).