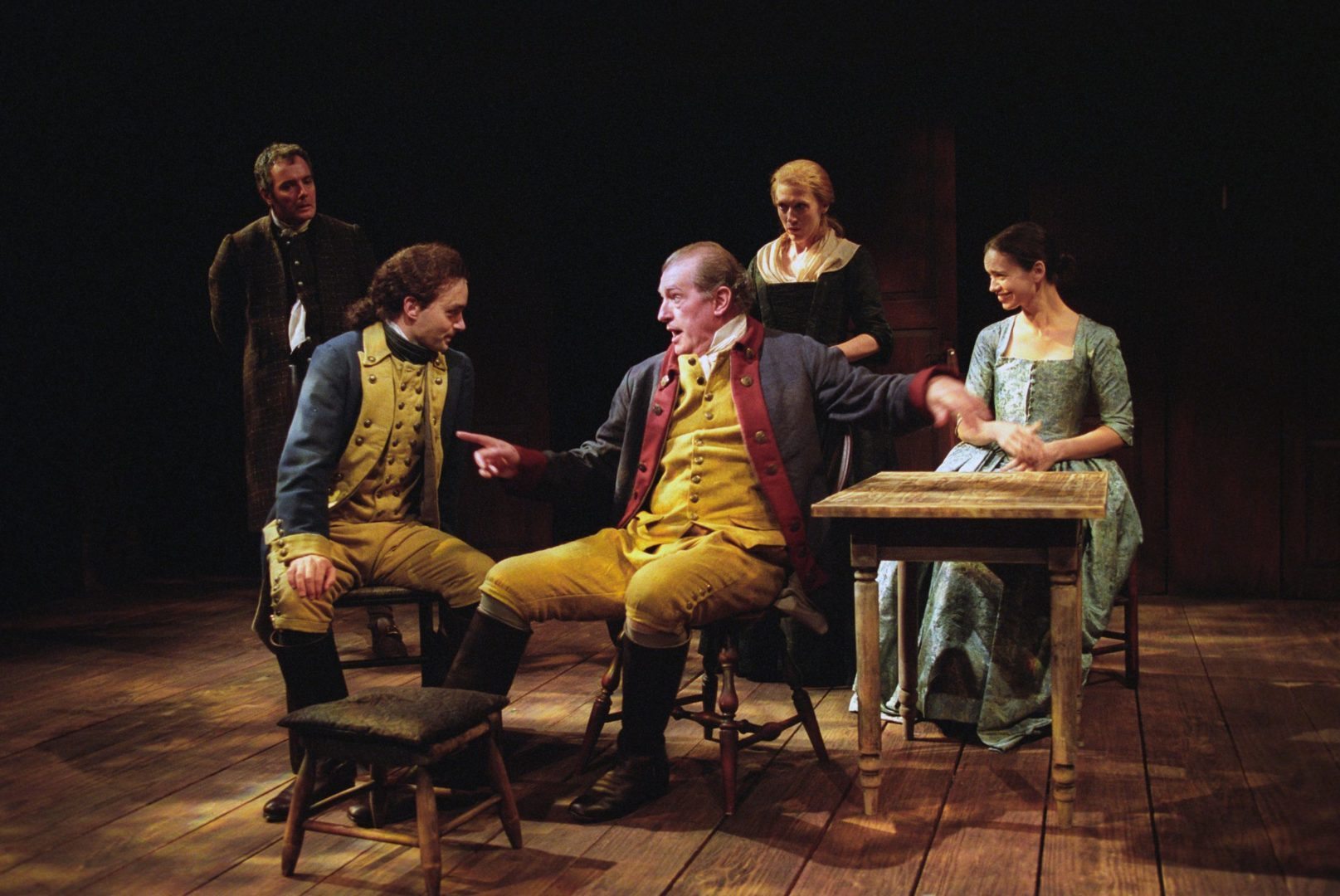 Happy Fourth of July! For the star-spangled occasion, we've compiled a list of our top ten favorite plays and musicals that celebrate and reflect on American life. In honor of our nation's 241st birthday, if you're in need of an American history refresher, want to be immersed in Americana, or to reflect on the freedoms and limitations unique to living in America, check out one of these wonderful Samuel French works!
O Beautiful by Theresa Rebeck: "O Beautiful, for spacious skies, for amber waves…" In our age of cyber-bullying and aggressive patriotism remember those lyrics – or else! Theresa Rebeck pens a theatrically inventive mashup of contemporary American life and the history that got us to this politically polarized age. This fiercely funny story explores the lives of high school students, teachers, and their families as they cope in a world of real personal problems and extremist ideological rhetoric that gets so heated that Jesus, Saint Paul, Joan of Arc, John Adams, Patrick Henry, and Benjamin Franklin, among others, show up to weigh in and mix it up. Alternately sweet and fiery, and as topical as tonight's newscast, O Beautiful lands the complex realities of our culture squarely on the stage deck in an electrifying blend of ancient characters, founding fathers, and your neighborhood high school. 12m, 12f.
The General from America by Richard Nelson: The Tony award-winning playwright for James Joyce's The Dead draws an iconoclastic portrait of America's quintessential traitor, Benedict Arnold. The focus is on how and why a military hero who nearly gave his life for the cause of American freedom ended up disclosing vital information to the British. The circumstances necessarily reveal some of the founding fathers' less than heroic machinations. First produced the Royal Shakespeare Company and in Houston and New York by The Alley Theatre, this is a rewarding look at intrigue in American history. 11m, 3f.
Abe by Roger Anderson, Lee Goldsmith: Abe is a new musical about the early life of Abraham Lincoln. The show explores his youth as a flatboat pilot on the Mississippi, his early love for Ann Rutledge, his troubled marriage to the difficult and mentally fragile Mary Todd, and his attempt to be a good father to his sons. The story follows Abe from his earliest attempts at self-improvement through the 1860 election which made him the 16th president of an already fracturing United States. 16m, 9f.
A Few Good Men by Aaron Sorkin: This Broadway hit about the trial of two Marines for complicity in the death of a fellow Marine at Guantanamo Bay sizzles on stage. The Navy lawyer, a callow young man more interested in softball games than the case, expects a plea bargain and a cover-up of what really happened. Prodded by a female member of his defense team, the lawyer eventually makes a valiant effort to defend his clients and, in so doing, puts the military mentality and the Marine code of honor on trial. 14m, 1f.
Ben Franklin in Paris by Sidney Michaels, Mark Sandrich Jr.: Robert Preston starred on Broadway as the nation's first elder statesman as he travels to France to win support for new colonial America, encountering a former flame in the person of Lady Diane who helps him win his cause. 19m, 4f.
Red, White and Tuna by Ed Howard, Joe Sears, Jaston Williams: The much anticipated third installment in the Tuna trilogy takes the audience through another satirical ride into the hearts and minds of the polyester-clad citizens of Texas' third smallest town. Along with Tuna's perennial favorites, some new Tuna denizens burst into the 4th of July Tuna High School Class Reunion. This sets the stage for a show full of fireworks and fun from the land where the Lion's Club is too liberal and Patsy Cline never dies. 2m.
Red Hot Patriot by Margaret Engel, Allison Engel: The story of the unsinkable Molly Ivins, the famously brassy newspaper columnist and best-selling author. A true Texas original, Ivins was a sharp-tongued wit who skewered the political establishment and the "good ol' boys" with her unforgettable humor and wisdom. Written by twin sisters, themselves longtime journalists, the play celebrates Ivins' courage and tenacity – even when a complacent America wasn't listening. 1f.
American Night: The Ballad of Juan José by Richard Montoya: As Juan José feverishly studies for his citizenship exam, his obsession to pass takes him on a fantastical odyssey through U.S. history guided by a handful of unsung citizens who made courageous choices in some of the country's toughest times. American Night: The Ballad of Juan José is a provocative, irreverent, and hilarious mix of past and present, stereotype and truth. 6m, 3f.
OOHRAH! by Bekah Brunstetter: Ron is back from his third and final tour in Iraq, and his wife Sara is excited to restart their life together in their new home. When a young marine visits the family, life is turned upside down. Sara's sister is swept off her feet; her daughter Lacey trades her dresses for combat boots, and Ron gets hungry for real military action. In this disarmingly funny and candid drama, Bekah Brunstetter raises challenging questions about what it means when the military is woven into the fabric of a family, and service is far more than just a job. 4m, 3f.
Biloxi Blues by Neil Simon: When we last met Eugene Jerome, he was coping with adolescence in 1930's Brooklyn. Here, he is a young army recruit during WW II, going through basic training and learning about Life and Love with a capital 'L' along with some harsher lessons, while stationed at boot camp in Biloxi, Mississippi in 1943. 6m, 2f.