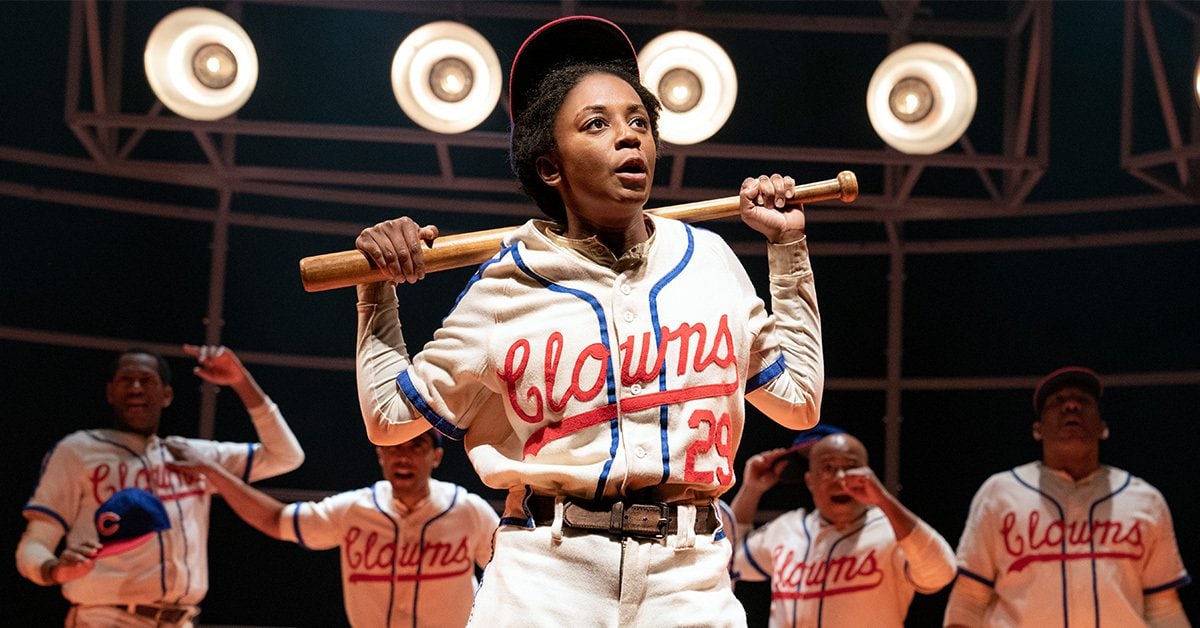 Ready to move from the field to the footlights? Whether you're a sports fanatic or content to stick to the stage, these plays will leave you wanting to join the team. Faithful to the sports they represent, these fierce plays and musicals dynamically examine identity, community and loyalty.
"If you go to see a play about sport, it is not going to be about sport— it will be about the human condition."
So dive in! After all, thirty minutes of physical activity is just what the doctor ordered.
…
Athena by Gracie Gardener (US/UK)
(Full-Length Play, Dramatic Comedy / 3f)
Mary Wallace and Athena are brave, and seventeen, and fencers, and training for the Junior Olympics. They practice together, they compete against each other, they spend their lives together. They wish they were friends.
August Wilson's Fences  (US/UK)
(Full-Length Play, Drama / 2f, 5m)
This sensational drama tells the story of Troy Maxson, a former star of the Negro baseball leagues who now works as a garbage man in 1957 Pittsburgh. During his prime, Troy was excluded from the major leagues, and now his bitterness takes its toll on his relationships with his wife and his son, the latter of whom wants his own chance to play ball.
Back Back Back by Itamar Moses (US/UK)
(Full-Length Play, Drama / 3m)
Before headlines blazed, before the Mitchell Report and ESPN lit up millions of television screens with the scandals, before congressional jaws dropped, comes the story of three guys making their way in the world of professional baseball – a world too competitive to rely solely on raw talent. This play looks behind the headlines as these teammates face each other and do battle – for their careers, their legacies, and the future of America's favorite pastime.
Bouncing Back by Gail Young (US/UK)
(Full-Length Play, Dramatic Comedy / 10f, 3m)
Bouncing Back follows a group of women returners to the game of Netball, the trials and tribulations of their training sessions, group bonding, getting sponsorship, tough coaching and the stress of organizing "me time." Will the team get fitter? Will they ever win a game? Will the coach ever find true love? And why do they all worship someone called Tracey?
Chariots of Fire by Mike Bartlett and Colin Welland (US/UK)
(Full-Length Play, Drama / 2f, 32m, 2 boys, 7 any gender)
Based on the extraordinary true story of Eric Liddell and Harold Abrahams, Chariots of Fire is an Olympic tale of hope, honor and belief. At the 1924 Olympic Games in Paris, a devout Scottish Christian runs for the glory of God, while the son of an immigrant Lithuanian Jew runs to overcome prejudice. These two young track athletes, who live for the beautiful purity of running, prevail in the face of overwhelming odds. 
Charles Ives Take Me Home by Jessica Dickey (US/UK)
(Full-Length Play, Drama / 1f, 2m)
Basketball and music collide in this smart, endearing story about a daughter yearning to connect with a distant father. Laura visits her divorced dad John on weekends, desperately trying to breach the gap between their passions. Only long-dead modernist composer Charles Ives can convince John to see the connections between violin and basketball and help this family reunite.
Colossal by Andrew Hinderaker (US/UK)
(Full-Length Play, Drama / 15m)
A star football player – a pro prospect, one of the most graceful runners in the world, and a man in love with a teammate – struggles to move forward in the wake of a catastrophic spinal cord injury. With full-contact choreography, this play about love, ability and extraordinary feats of strength tackles definitions of masculinity and the male body as vehicles for language, violence and silent expression through dance, football and disability.
Dance Nation by Clare Barron (US/UK)
(Full-Length Play, Dramatic Comedy / 9f, 2m)
Somewhere in America, an army of pre-teen competitive dancers plots to take over the world. And if their new routine is good enough, they'll claw their way to the top at Nationals in Tampa Bay. A play about ambition, growing up and how to find our souls in the heat of it all.
Diamonds by Various Artists (US)
(Musical Revue, Cabaret Comedy / 3f, 7m)
An all-star team takes to the field in a delightful presentation of 35 segments about baseball. Featuring songs and scenes by an impressive assortment of theatre luminaries, Diamonds is a spirited musical revue celebrating American's national pastime!
Glory by Tracey Power (US/UK)
(Full-Length Play, Dramatic Comedy / 4f, 1m)
In 1933, four friends set out to prove to Canada that hockey isn't just a sport for men. But with the Great Depression weighing heavily on the nation and political tensions rising in Europe, can they overcome the odds, and people's expectations, to forge their own path to glory?
Golden Boy by William Gibson, Clifford Odets, Charles Strouse & Lee Adams (US)
(Full-Length Musical, Drama / 4f, 17m)
Joe Wellington, a young black man from Harlem, is trying to rise up out of the ghetto to fame in the brutal world of boxing. But he makes one mistake: falling in love with his manager's girl Lorna, a seen-it-all white woman whom he loves not wisely but all too well.
Good News! (1993) by Laurence Schwab, B. G. De Sylva, Frank Mandel, Lew Brown, Ray Henderson, Mark Madama & Wayne Bryan (US/UK)
(Full-Length Musical, Comedy / 4f, 5m)
The Roaring Twenties come to life in this rousing musical comedy set at fictional Tate College. Football star Tom Marlowe falls for studious tutor Connie Lane, vivacious flapper Babe O'Day pursues third-string player Bobby Randall, and Professor Charlotte Kenyon rekindles an old flame with Coach Bill Johnson.
King Liz by Fernanda Coppel (US/UK)
(Full-Length Play, Drama / 3f, 3m)
Sports agent Liz Rico has money and an elite client roster but a woman in a man's industry has to fight to stay on top. Enter Freddie Luna, a high school basketball superstar with a troubled past. If Liz can keep this talented yet volatile young star in line, she just might end up making not only his career, but her own as well. But at what price?
Lysistrata Jones by Douglas Carter Beane & Lewis Flinn (US/UK)
(Full-Length Musical, Comedy / 6f, 6m)
The Athens University basketball team hasn't won a game in thirty years. But when spunky transfer student Lysistrata Jones dares the squad's fed-up girlfriends to stop "giving it up" to their boyfriends until they win a game, the team's legendary losing streak could finally come to an end.
Moreno by Pravin Wilkins (US/UK)
(Full-Length Play, Drama / 4m)
August, 2016. The NFL is being shaken by Colin Kaepernick's monumental decision. While other players join him in taking a knee, star running back Luis Moreno is all about his game – and his paycheck. When a destructive new reality hits close to home, Luis is forced to ask whether politics have a place on the field, and if he is willing to risk his career to take a stand for his own community.
Mr. Rickey Calls a Meeting by Ed Schmidt (US)
(Full-Length Play, Drama / 6m)
Joe Louis, Paul Robeson, Bill "Bojangles" Robinson, Jackie Robinson and Brooklyn Dodgers owner Branch Rickey meet in 1947 to discuss a strategy for dropping a baseball bombshell: promoting a black to the major leagues. If you want freedom of opportunity, do you play by the white's rules or do you demand that he play by yours?
The Beautiful Game by Andrew Lloyd Weber & Ben Elton (US)
(Full-Length Musical, Drama / 5f, 12m)
Under the watchful eye of team coach Father O'Donnell, John and Del both show enough promise to pursue careers as professional footballers. They're just two regular teenagers who dream of nothing more than girls and football. When they find love with their girlfriends Mary and Christine, they become swept up in the events that engulf their community and, as time passes, each must decide whether or not to follow his heart.
The Elaborate Entrance of Chad Deity by Kristoffer Diaz (US/UK)
(Full-Length Play, Dramatic Comedy / 5m)
As a lifelong fan, Macedonio Guerra has followed wrestling only to become a "jobber," one who is paid to lose to bigger-name stars in the ring. Macedonio meets Vigneshwar Paduar, a young Indian man from Brooklyn, who he wants to team up with. The wrestling execs go for it, but pitch them as "terrorists" in the ring. Unspoken racism, politics and courage are all woven into this play that leaves it all on the mat.
The Great Leap by Lauren Yee (US/UK)
(Full-Length Play, Dramatic Comedy / 1f, 3m)
When an American college basketball team travels to Beijing for a "friendship" game in the post-Cultural Revolution 1980s, both countries try to tease out the politics behind this newly popular sport. Cultures clash as the Chinese coach tries to pick up moves from the Americans and Chinese-American player Manford spies on his opponents. Inspired by events in her own father's life, Yee "applies a devilishly keen satiric eye to… her generation (and its parents)."
The Royale by Marco Ramirez (US/UK)
(Full-Length Play, Drama / 1f, 4m)
Jay "The Sport" Jackson dreams of being the undisputed heavyweight champion of the world. But it's 1905, and in the racially segregated world of boxing, his chances are as good as knocked out. When a crooked boxing promoter hatches a plan for "the fight of the century," "The Sport" just might land a place in the ring with the reigning white heavyweight champion.
The Tall Girls by Meg Miroshnik (US/UK)
(Full-Length Play, Drama / 5f, 1m)
Inspired by the flourishing and the decline of high school girls' basketball teams in the 1930s rural Midwest, The Tall Girls asks: who can afford the luxury of play? And what is the cost of childhood? Featuring a strong ensemble of female characters, The Tall Girls examines issues of class and gender against the backdrop of the historic 1930s Dust Bowl.
The Wolves by Sarah DeLappe (US/UK)
(Full-Length Play, Dramatic Comedy / 10f)
Left quad. Right quad. Lunge. A girls indoor soccer team warms up. From the safety of their suburban stretch circle, the team navigates big questions and wages tiny battles with all the vim and vigor of a pack of adolescent warriors. A portrait of life, liberty, and the pursuit of happiness for nine American girls who just want to score some goals.
Toni Stone by Lydia R. Diamond (US/UK)
(Full-Length Play, Dramatic Comedy / 1f, 8m)
Toni Stone is an encyclopedia of baseball stats. She's got a great arm. And she doesn't understand why she can't play with the boys. About the first woman to go pro in the Negro League and featuring a bullpen of players crossing age, race and gender, Toni Stone is a vibrant new play about staying in the game, playing hard, playing smart and playing your own way.
Vrooommm! by Janet Allard (US/UK)
(Full-Length Play, Comedy / 6f)
In this breezy "NASComedy" the fast lane is stalled to a screeching halt by the arrival of a woman driver on the NASCAR scene, and egos get bruised as Holly "Legs" Nelson starts stealing the show, driving so fast some think she's cheating. Her rival, Hotshot, wants to sabotage her success, which results in a fast-paced story of NASCAR drivers and their kooky fans, all in pursuit of high-octane glory.
…
For more shows that'll get your blood pumping, visit Concord Theatricals in the US or UK.
Header Image: 2019 Roundabout Theatre Company production of Toni Stone (Joan
Marcus).